Tag Archives:
Ozzie & Harriet
A classic Christmas song by one of my favorites: singer, songwriter, musician and actor Rick 'Ricky' Nelson. 🎭 📺🎤🎸🎵😃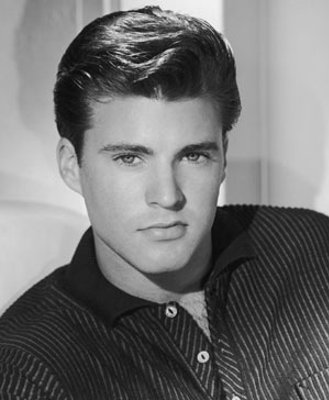 Born on this day in 1940: Actor, singer, songwriter and musician Rick 'Ricky' Nelson, best known for appearing as himself in his parents' long-running television sitcom, The Adventures of Ozzie and Harriet.
Nelson is also known for such classic songs, like "Hello Mary Lou," "Travelin' Man" and "Garden Party," and also starred in the 1959 film Rio Bravo with John Wayne and Dean Martin.
On Dec. 31, 1985, Nelson, his fiancee Helen Blair and five of Nelson's band members were killed when their plane crashed in DeKalb, Texas. Nelson was 45.
In lieu of the Christmas holiday, I present the classic 1956 song "The Christmas Song," which was originally sung by Nat King Cole and then remade in 1964 by actor/musician/singer-songwriter Rick Nelson for 'The Adventures of Ozzie & Harriet.'
By the way, the blond toddler in the video is Nelson's one-year-old daughter, actress Tracy Nelson, who is being held by her mother, Kris Harmon.