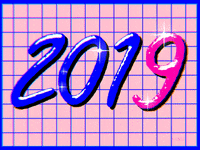 In perspective, 2018 seemed somewhat tame compared to 2015, which is when I stepped in to help my parents and brother, who all became ill that same year. It's been tough, not only for them, but for myself. I've had numerous challenges come my way and I am still learning. Fast forward to the present, they are fine at the moment, but only God knows what will happen in the future. I'm trying my best not to worry when it concerns them, but–as with most families–you sometimes can't help it. 🤔 At this point, all I can do is just take it one day at a time and not dwell on what could happen.
For the last three-plus years or so, one of my best friends ("C"), who I've known since fifth grade, has been encouraging me to start writing again. I've hesitated to pick up my pen and paper to do just that because I've been going through my own personal challenges, as well as keeping busy with helping my family. For the most part, I felt unaccomplished for much of 2018. 😔 I also know that I've always placed a lot on pressure on myself into setting goals and completing them. However, I didn't complete any of my goals for lack of motivation and because I became discouraged. It wasn't until I read an article written by a friend, where she briefly discussed her upbringing, the genre of writing she got into and the television pioneer, whose own life inspired her to follow her dream of becoming an entertainment writer and reporter based in Los Angeles. She has inspired me to seek out new opportunities, as did my brother, who has encouraged me to carve my own niche and write about things around me. In 2019, I intend to seek out more adventures and write about them. I may not be taking that once-in-a-lifetime trip to Europe just yet, but I can find other things or places to discuss and share with readers.
In 2018, I took small steps into practicing self-care. As a caregiver, you tend to forget about yourself because you're always taking care of others. Well, in 2019, I intend to do the opposite. I will still be there for my family, but I will also be putting myself first when it comes to working on tasks that are of importance to me.
On a sad note, 2018 ended with the deaths of two people, who were part of my extended family: my cousin's husband–who I had known since I was an infant–and my other best friend's ("I") father, who was a good friend of my parents' and who I had known since I was three-years-old. This will be a somber week, but both families are strong and they have the support of one another, including their friends.
Intending you have a joyous New Year, one filled with great health, happiness, love and prosperity. 📆 🤞🏼